Posted at 7:46 am on August 11, 2016 by Fawns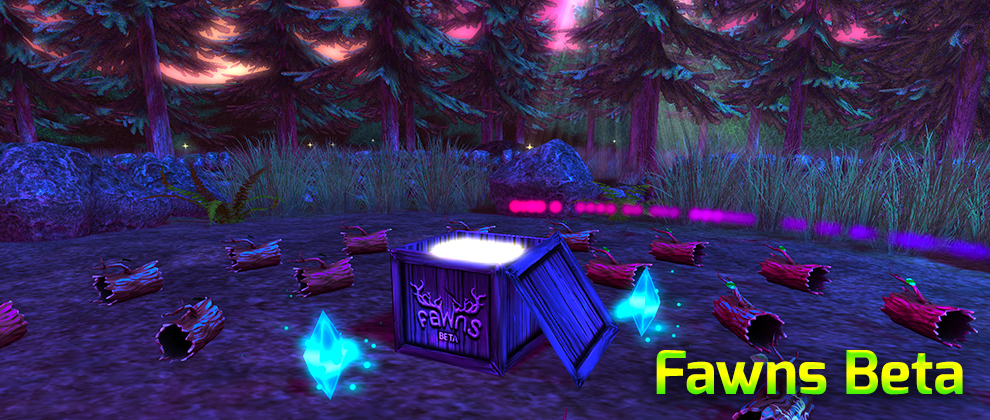 Fawns Beta has officially started as of 8:30AM SLT on August 11th. The beta will run for an undetermined amount of time. There may be multiple phases of beta, so please keep checking back here to see the latest news.
Thank you to all of the patient community members who have been waiting for this day. All pre-order customers are able to pick up a beta pack to begin testing with us. If you pre-order today you will be able to join us for beta.
We will be turning off the pre-order vendors exactly 1 week after the beta start date, so if you want to get in on the pre-order deals – do it now before it's too late. Fawns Packs are 25% cheaper during pre-orders, and some come with Limited Edition Fawns.
GRAB YOUR BETA PACK HERE: http://www.fawns.org/beta
-Fawns Team
---

Posted at 1:17 am on August 10, 2016 by Fawns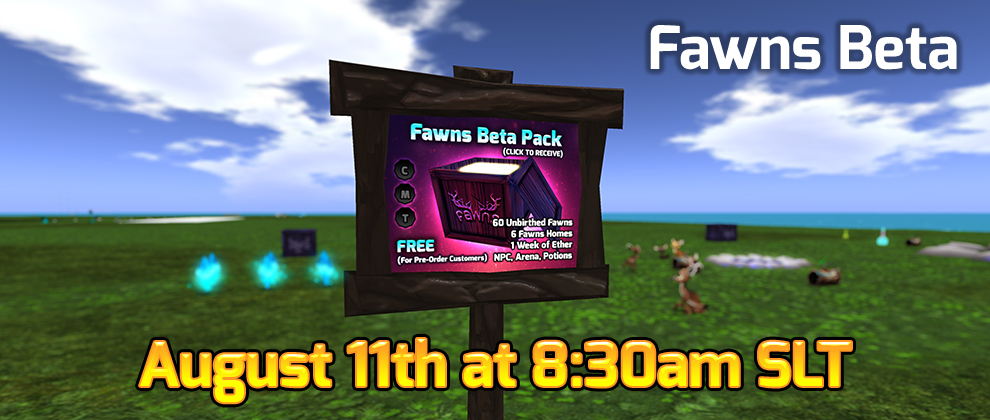 Fawns Beta will be starting at 8:30am SLT on August 11th.
We will be sending out a notice in the "Fawns" group in-world on Second Life informing pre-order customers on where they can go to collect their beta packs.
This is your 24 Hour Notice! However, we will keep pre-orders open for one final week after the beta begins. Expect the pre-order vendors to disappear sometime on the 18th.
We want to give a big thank you to all of the fawns community for being patient with us over the past few months.

As stated before, check the Fawns Group for a notice after 8:30am SLT on the 11th of August. Beta should be available to be collected at that time.
NOTE: If you pre-order a pack for the first time after the beta has started you will instantly be able to collect a beta pack and join the rest of us while we test.
Thanks everyone!
-Fawns Team
---

Posted at 8:28 pm on July 12, 2016 by Fawns
This video is super long…
Daemon shows off the current Fawns, Homes, Ether Crystals, shows how to birth on the HUD, as well as the "old school" method of birthing with "clicking and holding for 3 seconds" (which is much faster). Daemon talks about how the fawns in the last version would birth logs that were completely broken, explains that the main test he's doing today is making sure the logs are working fine again. Some slight issues with hovertext in the Starter Logs / NPC Logs (Possibly logs from breeding as well.) Birthing Particle is starting off on the avatar and then moves to the location of the birthing fawn, so that needs to be changed. Not much more left to do at this point, the product is very polished and working much better now.
---

Posted at 6:25 pm on June 30, 2016 by Fawns
You can read the description on YouTube to get a summary of what the video is.
-Fawns Team
---

Posted at 5:27 am on June 24, 2016 by Fawns
Daemon typed this up in chat earlier, putting it here permanently:
[06:21] Daemon Blackflag: it really wont be much longer, just hang in there a bit longer, our fawns in-world are pretty much ready for beta right now as-is, i just need to do some double checking on the entire product, need to make sure our Redelivery Portal is working (self service redelivery of fawns / logs), and maybe do a bit more dueling/racing/NPC testing… i cant think of anything else other than some web features like the Web portion of the redelivery portal, i need to make sure that is working with the in-world portion… we're very close, like, very close.
[06:21] Daemon Blackflag: at this point if i see any minor bugs, i'll probably give them a pass
[06:21] Daemon Blackflag: so we can get into beta
[06:22] Daemon Blackflag: we'll have time to resolve those during beta
…hang in there folks!
-Fawns Team
---

Posted at 4:26 pm on June 22, 2016 by Fawns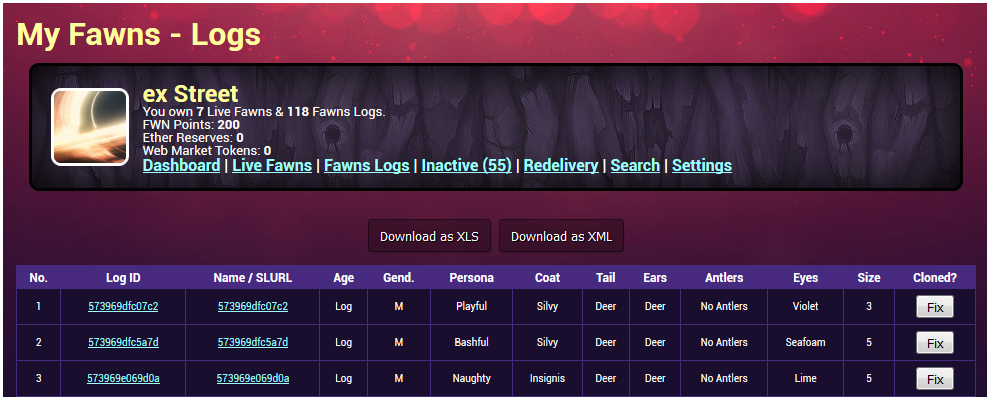 Hey folks!
Dash and I have been working diligently on connecting the My Account Web Features to the Fawns Database. We hit a road block, so to speak, but we have finally managed to plow right through it.
For inquiring minds, one of the pages that shows every single one of your logs (once you are signed in to the website) was not working properly. It uses many coding languages mixed together to operate, making it difficult to pinpoint what was going on to cause the issue. We even tried comparing broken code to known working code, and it was turning up identical in most instances.
Long story short? We were going a tad bit crazy trying to figure out what was going on, but we did! So we're moving right along as usual.
I know it's already the 22nd of June, we're definitely running on the late end of things, but please bear with us as we take the needed time to finalize the beta so that you all can get right into it. We've done our best to manage our time wisely, but a breedable project needs a lot of attention to ensure its success. Even the slightest issue can have an enormous effect on the community, so we've been extra careful. (This is not our first rodeo.)
Talk soon!
-Daemon
---

Posted at 11:40 pm on May 24, 2016 by Fawns
Congratulations to the 10 Following Winners!
1critter Resident
Raydenrider Resident
Hotminx Panthar
Blade Macpherson
amberlymoonborn Resident
psycoekitty Resident
Sedurre Resident
april Loire
Anonymous (Didn't Provide SL Name)
Anonymous (Didn't Provide SL Name)
The bottom two "Anonymous" winners are being contacted via e-mail right now. I'll post their names as soon as they get back with me and tell me their SL Avatars.
We'll probably have some more of these every so often, stay tuned!
-Fawns Team
---

Posted at 9:40 pm on May 17, 2016 by Fawns
We decided to hold a giveaway of 10x 4-Fawns Pre-Order Packs.
https://gleam.io/YkER3/waiting-for-fawns-preorder-pack-giveaway
Enter for a chance to win above.

-Fawns Team
---

Posted at 11:47 pm on May 10, 2016 by Fawns
We're getting a whole lot closer to beta at this point. Just a bit longer!

-Fawns Team
---

Posted at 2:03 pm on May 6, 2016 by Fawns
Getting close to beta folks! Not quite there, but we have the fawns packs and items inside of them working – just not 100% optimized. Give us a bit more time and you'll be in beta before you can say antidisestablishmentarianism.
-Fawns Team
---