Posted at 9:44 pm on March 10, 2016 by Fawns
Hey Folks!
Just a quick little update on how things are going. We just finished up nearly 20 Question and Answer sessions – getting everyone who attended onto the "same page", so to speak.
After I talk with Dash, I will have a better understanding of how close we are to Beta. So soon I should have a proper update regarding when beta is going to be starting.
I will be dedicating the majority of my time to working with the scripters on Alpha, and maybe doing a bit of marketing here and there in my spare time. You can always send me, Daemon Blackflag, an IM with any additional questions and I'll answer them at my best convenience.
Keep your eyes posted on the News page as well as our Group Notices in the "Fawns" group.

Talk soon!
-Daemon
---

Posted at 1:28 pm on March 2, 2016 by Fawns
Hey folks!
So we will be doing Questions & Answer (Q&A/QnA) sessions very soon!
Starting on the 3rd of this month, ending on the 10th of this month, we'll be doing ~3 sessions daily that are scheduled to last 1-2 hours each.
We made sure to have sessions start at 10AM SLT all the way up until 7:30PM SLT, with various times in between. These times were chosen by the auction houses and markets, not entirely by us – so hopefully at least ONE of these days will be good for everyone. If not, we will most likely have another round of Q&A sessions a bit later. (Please understand, Daemon talking for 4-6 hours every day, for 5 days straight, is going to make him want a short break!)
Hopefully we didn't miss anyone's notecards that wanted to host a Q&A, if we did – we apologize – but as stated above we will most likely be doing another round of Q&A sessions.

HERE IS THE OFFICIAL SCHEDULE FOR Q&A SESSIONS:
March 10 :
———
5PM SLT – Anisa's Amazing Krafties / Silver Mist Fawns – http://maps.secondlife.com/secondlife/ANIMAS%20MTNS/187/52/1500
Thanks everyone!
-Fawns Team
---

Posted at 6:06 pm on February 19, 2016 by Fawns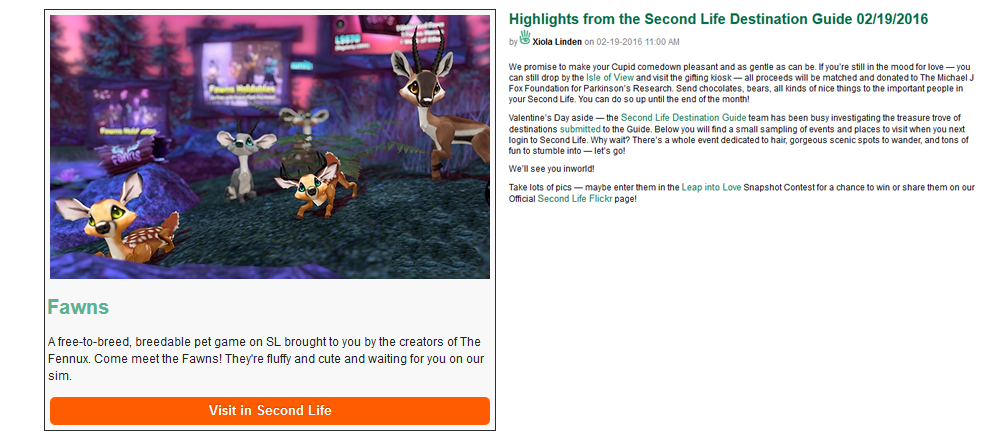 It seems we've been noticed…
https://community.secondlife.com/t5/Inworld/Highlights-from-the-Second-Life-Destination-Guide-02-19-2016/ba-p/3006399
Check us out on SL's Destination Guide, we're highlighted this week!
-Fawns Team
---

Posted at 8:30 pm on February 14, 2016 by Fawns
Hey everyone!
Fawns showed up just in time for the Relay for Life / Home and Garden Expo 2016! We have 100% Donation item, a "Hope" Front Holdable, available for L$495 at the following location:
http://maps.secondlife.com/secondlife/Hope%2010/197/161/23
All proceeds of the "Hope" Holdable go to Relay for Life, an organization in direct relation with the American Cancer Society. If you're passionate about Fawns or the fight against cancer – come on over and donate to receive your "No-Copy", "No-Mod", "Transferable!" holdable!
Thanks for reading!
Fawns Team
---

Posted at 5:55 pm on March 1, 2015 by Fawns
---

Posted at 9:48 am on February 28, 2015 by Fawns
Hey everyone,
We are doing things a little bit differently this time around. We're not having an official "Sponsors Program".
We have 5 banner images on the bottom of our website that are dedicated to advertising Fawns-related Markets and Auction Houses in-world on Second Life. Our code randomly selects 5 banners to display each time the page is loaded, giving a chance at advertising the locations.
We will gladly post any market/auction house banner on our website so long as the location it links to is semi-dedicated to Fawns Breedables. If you run a Fawns Market and/or Fawns Auction House, we will gladly throw a banner and link to your location on the bottom of our website.
Unless we're talking about Fennux (we're biased), if we find your location favors another breedable far too greatly, we probably won't advertise for you, (let alone the other breedable). This is free advertising after all.

If you run a multi-breedable market that tries to be as equal as possible, we're fine with that, so don't be afraid to inquire!
Anyway, if you own an Auction House or Market that is semi-dedicated to Fawns, submit a support ticket with your logo or banner, a SLURL location, and brief explanation of your place – and we'll see what we can do.
(If we don't have the support ticket system hooked up yet, throw Daemon Blackflag a Notecard with the above information and send a Full Perm logo/banner.)
Thanks for reading!
-Daemon
---

Posted at 11:02 pm on February 26, 2015 by Fawns
Hey again,
We have finalized pre-order pricing! We are offering a discount for a limited time during pre-orders. We feel that our founding members should benefit by taking 25% off our regular Fawns Pack pricing.
Here is a list of what you'll be able to pre-order and how much it will cost:
—
1 Fawns Pack – L$670 (regularly L$895)
Comes with 1 Unbirthed Fawn, 1 Home, 1 Week of Ether
2 Fawns Pack – L$1,250 (regularly L$1,675)
Comes with 2 Unbirthed Fawns, 1 Home, 1 Week of Ether
4 Fawns Pack – L$2,375 (regularly L$3,175)
Comes with 4 Unbirthed Fawns, 1 Home, 1 Week of Ether, 1 LE Unbirthed Fawn
8 Fawns Pack – L$4,450 (regularly L$5,945)
Comes with 8 Unbirthed Fawns, 1 Home, 1 Week of Ether, 1 LE Unbirthed Fawn
20 Fawns Pack – L$10,400 (regularly L$13,895)
Comes with 20 Unbirthed Fawns, 2 Homes, 1 Week of Ether, 3 LE Unbirthed Fawns
—
All Pre-Orders come with a "Fawns Holdable Pet" delivered in-world the moment you pre-order. Other packs will include additional Holdable Pets and even Running Pets. Check the Pre-Order page for full details.
You will also gain access to the Fawns Beta as soon as it starts.
When Fawns launches officially, you'll have a 3-Day Head Start before anyone else.
The Unbirthed Fawns are randomly selected (5 variants). The LE Unbirthed Fawns are also randomly selected (3 variants). The gender will be 50% random either male or female. With Fawns you only require a male and a female to breed, but if you mismatch their personas it's beneficial to breeding.
Thanks for reading, more updates soon!
-Daemon
---

Posted at 5:25 pm on February 25, 2015 by Fawns
Hey everyone,
Just wanted to give a quick update on how development is going.
Fawns has been developing slowly over the past year or so. It was not until just recently that we decided to ramp up the development. Our team members are currently producing textures, scripting, coding, story telling and more. It shouldn't be too much longer that we feel comfortable revealing this project to the general public.
We just finished the final version of our creature mesh (the Fawn itself), as well as the racing track, dueling arena, and all of the fun little accessories we will have to offer.
The website has been more-or-less finished for a while now, it's still being adjusted so that we can actually make it live and show it off to the world.
Our sim is around ("Fawns" on Second Life), and it's ready to show off – but not until we start accepting pre-orders.
I'll make a new post as soon as I have a bunch more things to talk about.

-Daemon
---