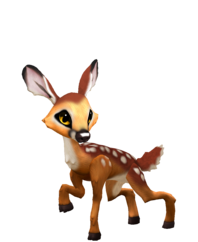 Fawny
The one that started it all. The Fawny coat is the heart of the fawns breedable. After we took one look at this coat we knew the rest would be just as great. This coat resembles a baby deer with little white spots that aid in camouflage. Multiple shades of brown with an off white undercoat.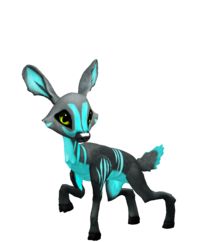 Insignis
Insignis has a lovely cyan undercoat with cyan markings all over. It's basecoat features various shades of grey, and its tail has a little bit of blue fluff to boot. One of the most sought after fawns in the Generation 1 Fawns Packs.
Mousse
Named for its deep chocolate coloration, with hints of lighter browns, the Mousse coat is quite the looker. The face and neck feature lighter shades that blend well into its chocolatey goodness. Oh, and it also looks like a moose.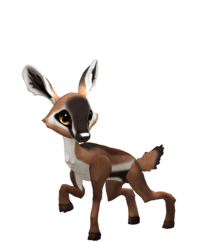 Anty
Anty's pattern is well suited for camouflage on the plains. From certain perspectives the Anty just looks like some rocks and trees casting shadows. These coats look great with a certain set of antlers...
Silvy
Silvy takes inspiration from chinchillas. Their beautiful silver base coats and their offwhite undercoats look awesome. Notice how their inner ears are pink which is the only bit of color these coats exhibit.