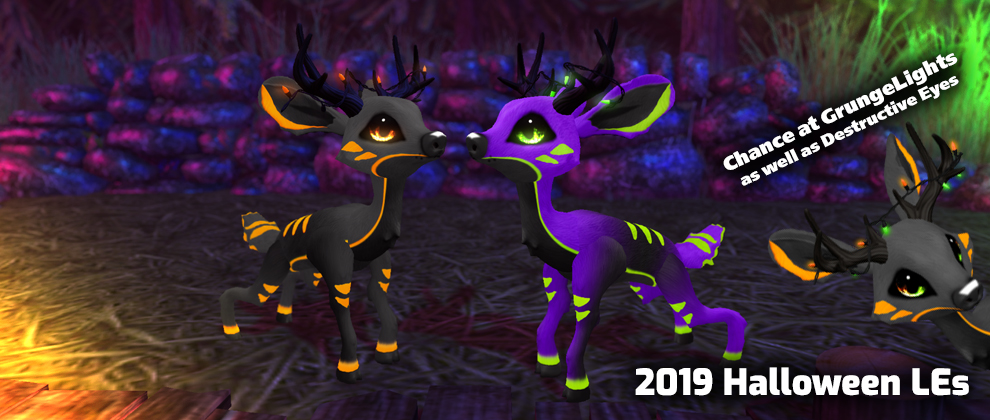 It's the spookiest time of the year… Halloween is coming to the Fawns Breedable yet again! Let's be honest, all of October is "Halloween"! It's not just a single day. October IS Halloween! That's why we're bringing you the Halloween (left) and Poison (right) coat Fawns!
The Halloween coat features a traditional orange / black (and grey) color scheme, but the Poison coat shows off something that reminds us of a venomous witches brew.
You are guaranteed to receive either Corrosive or Blazing eyes, with a slight chance at the hybrid "Destructive" eye variant. Word on the street is you can breed for Destructive eyes by putting together Corrosive/Blazing…….
LIGHT ANTLERS ARE BACK. You'll notice you have a decent chance at obtaining HallowLights or AcidLights, with a VERY rare chance at obtaining GrungeLights! You can see all of the antlers above. (Some say you can pair Hallow with Acid for a chance at Grunge…)
It'll set you back 5,000 FWN Points or L$995.
This fawn is available at http://slurl.com/secondlife/Fawns/149/161/23 in the vendors area as per usual. We will take the vendors down after about two weeks.
Some people lag a lot, so we put them down here as well: http://slurl.com/secondlife/Mysten/139/149/3017
Thanks!
-Fawns Team