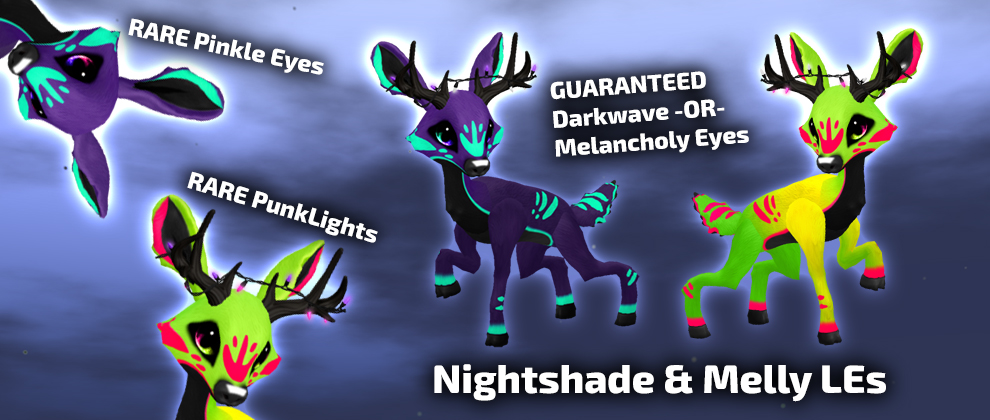 The party in the Summer hasn't stopped yet – it's still poppin', which is why we're bringing you the Nightshade and Melly LEs!
Both LEs share similar patterns, but Nightshade has a deep purple topcoat with cyan markings – and Melly has a lemon-lime topcoat with hot pink markings.
You are guaranteed to receive either Darkwave or Melancholy eyes, with a slight chance at the hybrid "Pinkle" eye variant. Word on the street is you can breed for Pinkle eyes by putting together Darkwave/Melancholy…….
LIGHT ANTLERS ARE BACK. You'll notice you have a decent chance at obtaining IcyPinkLights or IcyPurpleLights, with a VERY rare chance at obtaining PunkLights! You can see all of the antlers above. (Some say you can pair IcyPurple with IcyPink for a chance at Punk…)
It'll set you back 5,000 FWN Points or L$995.
This fawn is available at http://slurl.com/secondlife/Fawns/149/161/23 in the vendors area as per usual. We will take the vendors down after about two weeks.
Some people lag a lot, so I put them down here as well: http://slurl.com/secondlife/Mysten/139/149/3017
Thanks!
-Fawns Team