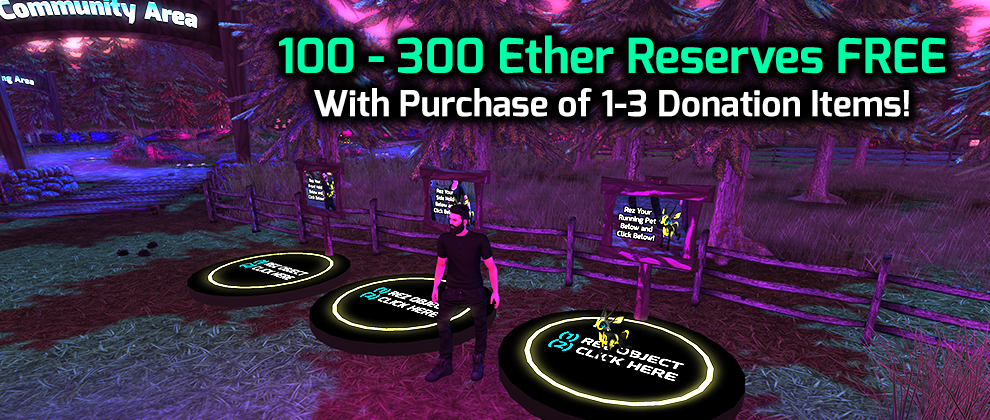 For a limited time, if you donate to Charity Water (by purchasing any/all of our Donation Items) we will give you between 100 and 300 Ether Reserves at no additional cost! (+100 for each different item you buy, we have 3 different items total, enabling you to receive up to +300 Ether Reserves.)
The process is self-service, so you will have to follow these directions after purchasing some or all of the Donation Items, to receive your Ether Reserves.
1.) Visit http://slurl.com/secondlife/Fawns/106/95/22/
2.) Look for an unoccupied set of Redemption Circles (Pictured Above)
3.) Rez your Front Holdable on the Left Circle, or Rez your Side Holdable on the Middle Circle, or Rez your Running Pet on the Right Circle
4.) Click one time on each Circle to verify that you purchased the Donation Item(s)
You should now see a message in Nearby Chat / Local Chat that says SUCCESS.
If for some reason it says Error, read the message of what went wrong and try again. If for any reason you feel the Error message is not correct, please file a Support Ticket.
It's recommended to rez out one donation item at a time, and wait for redemption before trying the next circle (if you have multiple donation items to redeem).
We have a 1 minute Parcel Auto-Return enabled, so work quickly! Rez the item and click within 1 minute or else it will be returned. (This also means if you see an object rezzed on a Circle with no one around, within a couple minutes it should disappear. If not hit up Daemon Blackflag and let him know.)
NOTE: YOU CAN ONLY RECEIVE +300 ETHER RESERVES PER ACCOUNT. THIS MEANS ONE TIME FOR THE FRONT HOLDABLE, ONE TIME FOR THE SIDE HOLDABLE, AND ONE TIME FOR THE RUNNING PET.
THIS IS A LIMITED TIME OFFER, "FAWNS BREEDABLES" AS A COMPANY RESERVES THE RIGHT TO CANCEL THIS PROMOTION AT ANY TIME.
ANYONE TRYING TO EXPLOIT/RECEIVE MORE THAN 300 ETHER RESERVES PER ACCOUNT WILL BE BANNED ON ALL CONNECTED ACCOUNTS, REPORTED TO LINDEN LAB, ETC.
Thanks folks! Keep the donations flowing so we can help change the world.
-Fawns Team